Hello
Happy Shrove Tuesday/Pancake day!! We love this time of the year even though we do tend to eat pancakes most sundays. They have to be one of my favourite breakfast meals or a yummy dessert treat. They are so simple to make!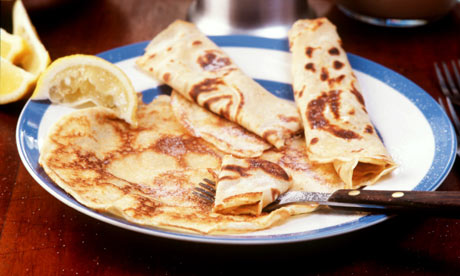 The children are aware of the true meaning of pancake day but I admit, since moving to Plymouth, we have failed to carry out any church services especially on important occasions like today.
Last year when we did go to church, we enjoyed celebrating and learning the true meaning of Shrove Tuesday which I feel is important. Many people just think it is a day dreamt up my the supermarkets to sell more eggs and flour. Shrove Tuesday is the day preceding Ash Wednesday, the first day of lent. It is traditionally the day we feast on richer, fatty foods before the ritual of fasting the day after. Here in the UK we traditionally feast on pancakes, whereas other countries will be seen taking part in Mardi Gras, the french term for Fat Tuesday.
Why do we eat pancakes? Lent is a time of abstinence, of giving things up. So Shrove Tuesday is the last chance to indulge yourself, and to use up the foods that we aren't allowed to eat during lent. Pancakes are eaten on this day because they contain fat, butter and eggs which are forbidden during lent.
Here is the recipe we use every year to make our pancakes:
American breakfast pancakes:
(From Nigella Lawson's cook book)
This recipe is extremely popular in my household because they are so thick and spongy. They go really well with syrup or just simple lemon and sugar. For breakfast, try adding some bacon, mushrooms and scrambled egg. For desert, we let the children cover their pancakes in icing sugar and their favourite sweets.
225

gram(s)

plain flour

1

tablespoon(s)

baking powder

1

pinch of

salt

1

teaspoon(s)

white sugar

2

large

egg(s) (beaten)

30

gram(s)

butter (melted and cooled)

300

ml

milk
Method
The easiest way to make these is to put all the ingredients into a blender and blitz. But if you do mix up the batter by hand in a bowl, make a well in the flour, baking powder, salt and sugar, beat in the eggs, melted butter and milk, and transfer to a jug: it's much easier to pour the batter into the pan than to spoon it.
Heat a smooth griddle or pan on the stove.
When you cook the pancakes, all you need to remember is that when the upper side of the pancake is blistering and bubbling it's time to cook the second side, and this needs only about 1 minute, if that.
Serve.
I managed to make about 12 thick pancakes altogether out of this recipe and added a few added extras for people to choose from such as lemon and sugar, syrup, fruit, cream and my favourite, chocolate sauce.
This is what they are supposed to look like but mine are not as pretty as this image from taste.com
Hope you all have a lovely day. Are you giving anything up for lent this year?
Gem x