Hello and welcome back to Through my child's eyes, the link up for mini photographers and artists. A big thank you to Georgina from My greatest adventure for linking up last week with her daughter's gorgeous photo of some flowers that are in her garden. Please go and check it out.
This week, Alfie wanted to take a photo of our sunflowers that we are currently growing in our conservatory. The boys and I are having a competition who can grow the tallest one. Alfie is winning which of course he is so happy about.
Please add my badge to your posts

Link up your children's artwork or photos, with or without words is fine

It will run from Thursday 12am till Saturday

Can be old or new and as many as you like

When you add your link, please make sure they lead to your posts and not your blog's homepage. It may be difficult for me to find.

Share your link up on twitter using #throughmychildeyes and tag me @gemma_stevens so I know to retweet and comment on your post.

Try and comment on other posts in the link up.

Feel free to link your Instagram photos too

Enjoy working together
Now it's your turn.
I look forward to seeing the photos and artwork your children have created recently. Please help me make #throughmychildseyes a success by sharing the link up across your social media and by adding my badge to your posts.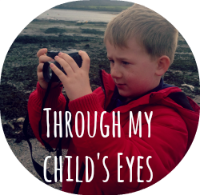 An InLinkz Link-up