Hello and welcome back to Through my child's eyes, the link up for mini photographers and artists. I am very sorry that I took such a long break from hosting this link up but I have decided to bring it back and give it another shot.
This week, I wanted to show you two photos Thomas took while out walking along the waterfront in Plymouth. It was a miserable day with wind, fog, and heavy rain. However, we made the most of it and quite enjoyed our walk after eating a massive lunch in the cafe. Thomas wanted to steal my camera when we got to these benches and asked Alfie to say 'cheese'. Alfie decided it would be funny to pull his creepy face to annoy Tom which worked, he stormed over to the pigeons and took their photo instead. Quite funny to watch really.
The Linky
Please add my badge to your posts

Link up your children's artwork or photos, with or without words is fine

It will run from Thursday 12am till Saturday

Can be old or new and as many as you like

When you add your link, please make sure they lead to your posts and not your blog's homepage. It may be difficult for me to find.

Share your link up on twitter using #throughmychildeyes and tag me @gemma_stevens so I know to retweet and comment on your post.

Try and comment on other posts in the link up.

Feel free to link your Instagram photos too

Enjoy working together
I look forward to seeing the photos and artwork your children have created recently. Please help me make #throughmychildseyes a success by sharing the link up across your social media and by adding my badge to your posts.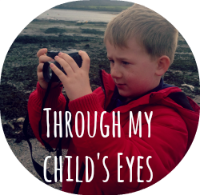 An InLinkz Link-up