Hello and welcome back to another Through my child's eyes. Last week we only had one brilliant link up from the lovely Christina at Ladybug home & design, but I am still determined to get more people involved! I have been doing a little bit of thinking about adding a challenge into this link up to make it a little bit more fun for children to take part in. Let me know in the comments below if you think this is a good idea to start next week. If people do say yes, I will let you know in advance what the first challenge is. At the moment my plan is set out colour tasks such as getting your children to photograph/ paint something blue and then the next week, something orange and so on.
Please add my badge to your posts

Link up your children's artwork or photos, with or without words is fine

It will run from Thursday 12am till Saturday

Can be old or new and as many as you like

When you add your link, please make sure they lead to your posts and not your blog's homepage. It may be difficult for me to find.

Share your link up on twitter using #throughmychildeyes and tag me @gemma_stevens so I know to retweet and comment on your post.

Try and comment on other posts in the link up.

Feel free to link your Instagram photos too

Enjoy working together
Alfie's entry
This week, I wanted to show you a photo my eldest son Alfie took of a seagull looking out to sea. The seagull just stood there watching his friends flying over head and Alfie managed to take this shot before the bird flew off to join them. I let Alfie play around on pic monkey with filters and exposure but with a little help from me. We settled on a little bit of cross process to bring out the mood of the scene.
Now it's your turn.
I look forward to seeing the photos or artwork your children have created recently. If your child is too young to hold a camera, be creative and maybe take a photo from their eye levels, from their prams for example. Please help me make #throughmychildseyes a success by sharing the link up across your social media and by adding my badge to your posts.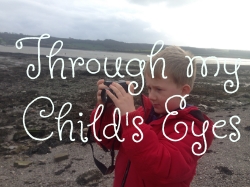 An InLinkz Link-up