Hello and welcome back to Through my child's eyes, the link up for mini photographers and artists.
This week, I passed Alfie and Thomas a camera each and let them choose what they wanted to take a photo of. After a few minutes of running around outside, they ended up sitting indoors on the sofa, taking photos of each other. It was so sweet to watch.
Last week we had 5 link ups which I was so happy to see. I have also had some fab comments on twitter from people who said they would love to start joining in, so fingers crossed we can get a few more link ups this week. I love hosting Through my child's eyes and I really enjoy reading all your entries, there are some talented kids out there.
Glimmer of Hope: Photos for mommy. After taking photos of the things Merlinda's son liked the look of during a bike ride, he started to take photos for his mommy. He snapped away at places he thought his mum would love which was so sweet.
LadyBug home & design: Castle acre priory, Norfolk. During an Easter Sunday trip to Castle Acre, Little lady bug took a sweet photo of her mum and baby brother before heading off to search for the Easter bunny.
Working mummy & wife: Play-dough fun. W received a box of play dough for his second birthday and decided to create two amazing little aliens while recovering from chicken pox. They are fab and I especially love the hair style of the yellow one.
Truly madly kids (Instagram): Family portrait. A lovely family photo taken by her daughter during a skiing trip.
Not just another mum: Frog. Spud found a rather large frog while out walking around Chorlton water park. He managed to grab his mum's camera in time to take these fab set of photos.
Please add my badge to your posts

Link up your children's artwork or photos, with or without words is fine

It will run from Thursday 12am till Saturday

Can be old or new and as many as you like

When you add your link, please make sure they lead to your posts and not your blog's homepage. It may be difficult for me to find.

Share your link up on twitter using #throughmychildeyes and tag me @gemma_stevens so I know to retweet and comment on your post.

Try and comment on other posts in the link up.

Feel free to link your Instagram photos too

Enjoy working together
I look forward to seeing the photos and artwork your children have created recently. Please help me make #throughmychildseyes a success by sharing the link up across your social media and by adding my badge to your posts.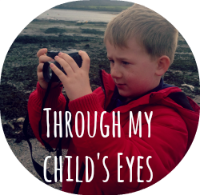 An InLinkz Link-up